In a nutshell
Connecting alumni across the globe
Challenge
The Shuttleworth College Association (SCA) is a decades-old society comprised of ex-Shuttleworth students.  The Association was primarily formed to enable old students to connect with their classmates but it also has an instrumental impact on the future success of the College.  They came to us with an existing website that was desperately in need of a refresh, having laid stagnant for many years.
Outcome
We re-designed the website with a fresh new look and a restructure of content to make catching up with updates easier to digest.  Most importantly, we facilitated online subscriptions to help alleviate the decline in newer digital native students discovering and signing up to the Association.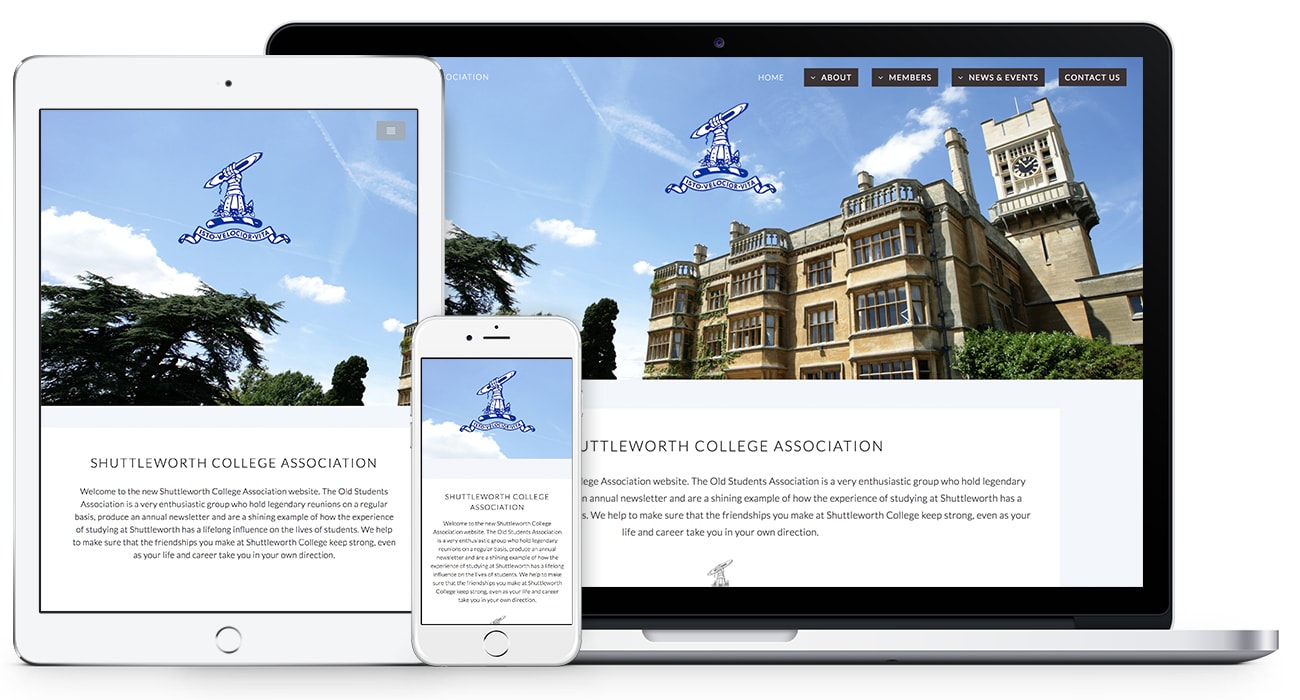 ---
The Brief
Due to our prowess in the educational sector, the SCA approached Dream Digital to revamp their existing website – seeking both strategic guidance in how they could appeal to a younger generation and guidance on how they could improve their web presence.
The old website had been designed by an ex-member and unfortunately had been left dormant for many years.  A lack of updates made it seem like the Association had folded but this was far from the case.  In fact, over recent years the SCA have been even more active, so not conveying this online was having a major negative impact.
The SCA were also keen to increase its membership, so we worked with them to make sure the new website would be more findable by recent Shuttleworth alumni.  It was also critical that students could register to join the Association via the website, as opposed to the prior method of having to register via post – something simply inexcusable in 2017.
---
Strategy & Design
The previous site was hard to navigate, had no visual identity and also suffered from accessibility-related issues such as text being too small to read – a major issue given the average age of an Association member.
We worked closely with the Association to produce a visually-striking new re-design that had attractive photography of the buildings and landscapes old students would recognise.  Website usability was also key, given that a large proportion of members would not be as comfortable with computers and the internet compared to the younger generation.  We made dramatic improvements to the existing navigation, making browsing the site a breeze.  The page structure of the website was also addressed, with unnecessary pages being scrapped and content being adjusted to make it more concise and digestible.
---
Client Feedback
Dream Digital have been the perfect package and we're absolutely thrilled with our new website.  We've finally left the dark ages and we're already starting to see an increase in alumni joining us!
---
The Bottom Line
The new website is a much needed modern update that has received amazing feedback from Association members.  The re-design has resulted in a 15% increase in new visitors and improved usability has resulted in the average visitor spending five minutes browsing (a 45% increase).  Digital subscriptions have been as successful as anticipated and membership growth has increased by 10% over the previous year.